Creative Connoisseur Gift Set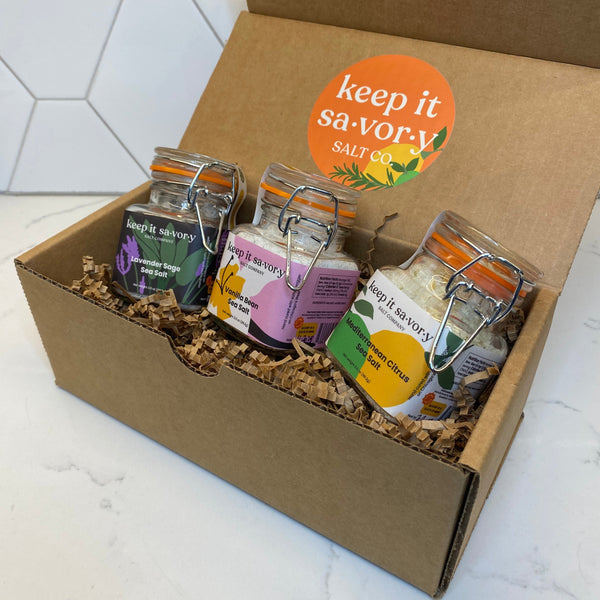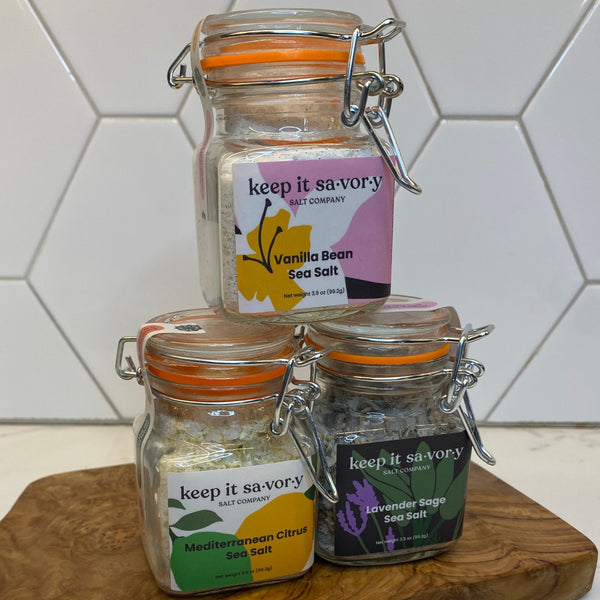 BACK IN STOCK!
Meet Salt's More Sophisticated Side
A pinch of piquant, a shake of sharp, and a bit of wit? Yes, please. Make dinner, and life, a little more delectable? Check. Add a pinch of good to your food and the world? Oh, make it so. And stay a little salty?...GIRL.

Whether you're seasoning a roast duck with Lavender Sage, finishing your favorite cookie as it comes out of the oven with Vanilla Bean, or salting the rim of a Paloma with Mediterranean Citrus, your guests might start asking if you take reservations.
Keep It Savory Salt Co.'s salts are slow-cured with local ingredients procured from small urban farmers and vendors working to increase food access on Chicago's west side. The time-intensive curing process means that the salts are holding on to layers of fresh flavors that release in the dishes you make. Who doesn't want seconds (and thirds!) of belly laughs, delicious conversations, and savory food that serves everyone?

These microbatch hand-cured sea salts from Keep It Savory Salt Co are the go-to for type of home chef likely to order their cut of meat ahead from the butcher, who hand-select the freshest asparagus or Brussels sprouts, and who care as deeply about savory flavor profiles as they do about making the world a more savory place.

Includes three 3.5 oz glass jars with wire bale clasp lid:
Lavender Sage, Vanilla Bean, Mediterranean Citrus